Score:Inter Milan 3 Lazio 2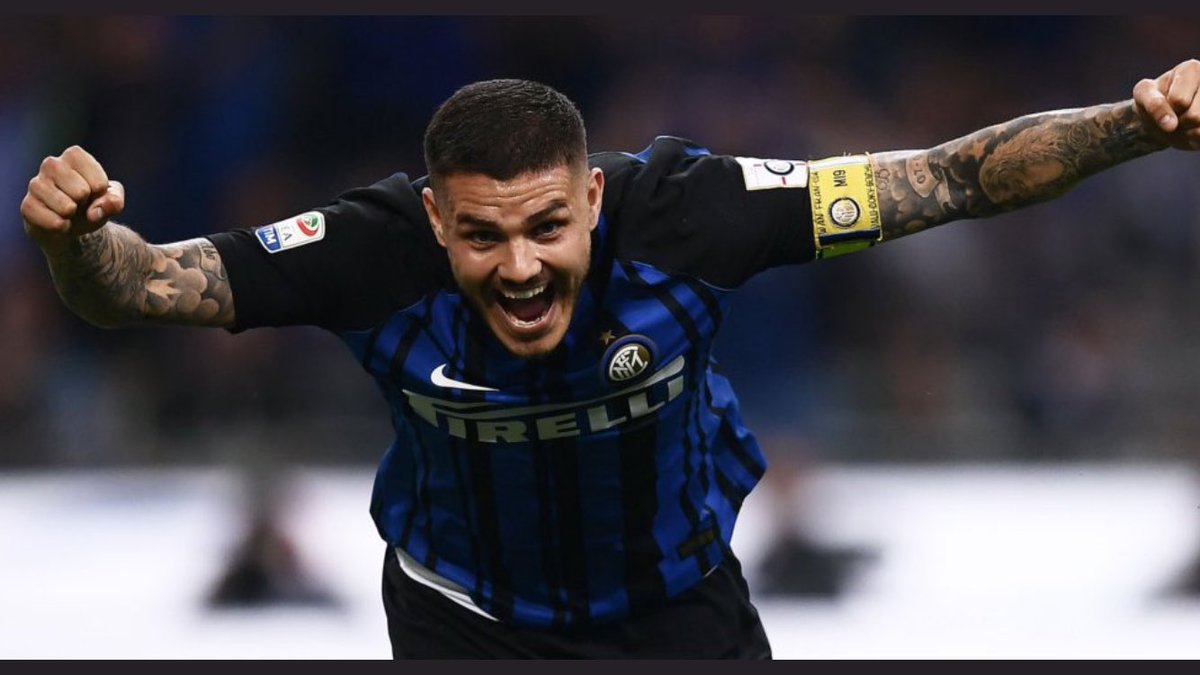 Stadio Olimpico
Roma Italy
Hey everyone welcome to the final match of the Serie A season and what a season it's been. There have been many highs and lows for all the teams from seeing Napoli looking to have the title but a few slip ups lead to seeing Juventus lifting a seventh consecutive title. Inter in the first half of the campaign looked to be title contendors but a seven match downward spiral dropped them to fifth where a Europe spot is already gaurenteed but Inter do have one last chance to get that final Champions League spot. Last week after their loss against Sassuolo it looked like their hopes would've been slashed. But 24 hours later Lazio faced Crotone a relegation side looked to have that match in the bag and that final CL spot. But they ended in a draw with that Inter's hopes were resparked due to Italy's head to head rule if Inter beat Lazio despite having the same amount of points will push Inter in that final spot. Also in the hunt for the golden boot are Icardi and Immobile are separaed by just a goal. After a breif recap of what's been going time to jump into this weeks highly anticipated final match the last time Inter faced Lazio they held each other to a 0-0 draw which is where Inter would continue their seven match slump. Both sides are both looking for that final coveted CL spot. Only one of them will move on while the other will get into Europe. This will be no easy task for Inter as Lazio are a great club and are feirce advasaries and who will stop at nothing to get the crucial three points. In their last ten matches Lazio have gone undefeated which means they have momentum going into this match along with having home advantage. Besides one draw Lazio have dominated Inter in four of their last six matches. There are a lot of things Inter will need to keep a eye on first off is keeping their chances limited as they use a variaty of ways to create scoring chances like using individual skill, long shots and through balls. They do a great job finishing those chances which is why it's critical that Inter shut them down early. They are great at come from behind situations and are great at protecting the lead once they establish one. Also Inter will need to protect the whole pitch as Lazio like to use the whole pitch to their advantage especially down the wings. They will do a great job at counter attacks and will try and take the ball away from Inter. But they do have several weaknesses they like Inter struggle with being caught offside which Inter can exploit they also struggle todefend against skillful players and through ball attacks which Inter can use as well. Lazio style has some of the things mentioned earlier in way of shots and using the whole pitch to their benefit. But they also like using short passes to advance the ball into the oppositions half. Also they attack mostly in the middle of the pitch along down the left which Inter will need to defend. Inter will need to create and finish their own chances as much as possible. They'll also need to keep the ball in Lazio's half to keep the pressure there. They will last of all need to defend their own half. If they can manage all to do all this they have a chance of getting the prize of the final CL spot but this will be a tough match as Lazio are no pushovers and who are also out for that spot as well. At this point it'll be anyones game and a great match overall. In the first half both sides opened great chances each sides would score with two goals from Lazio and one from Inter. Lazio take a 2-1 lead at the half. In the second half they would continue going at each other in theis half Inter get two goals with Lazio getting one. With Inter's extra goal gave them the victory and the final Champions League spot.
This week Inter stick with the 4-2-3-1 formation but there is one player switch to mention. In goal is none other than Handanovic. On defense on left back is top defender D'Ambrosio. In the center is Miranda replacing Skriniar on left center back and replacing Rannochia on right center is Skriniar who has been a cricial element to the defense. Capping them off is Cancelo who Inter need to sign during the transfer window. On the defensive mid is Brozovic and Vecino. On the attacking is Perisic on the left wing who is tied for ninth in assist and second in goals for Inter. In the center if Rafinha who as helped Inter as well and who has sparked interest at staying at the club. On the right wing is Candreva who shares ninth in assist with fellow teammate Perisic. Up top the Inter scoring beast Icardi and golden boot hopeful. This is a ok lineup but Lazio defnders will cause Inter problems as they'll try and bottle neck Inter's midfeild. Also they need to keep an eye on Immobile who is Lazio's main goal taker and who is also in the hunt for the golden boot. Also they need to keep an eye on Lulic as well. On defense they need to keep an eye on De Vrij who is good at cutting through teams defenses and De Vrij is also moving to Inter next season. If Inter can focus on these players they can possibly win this match.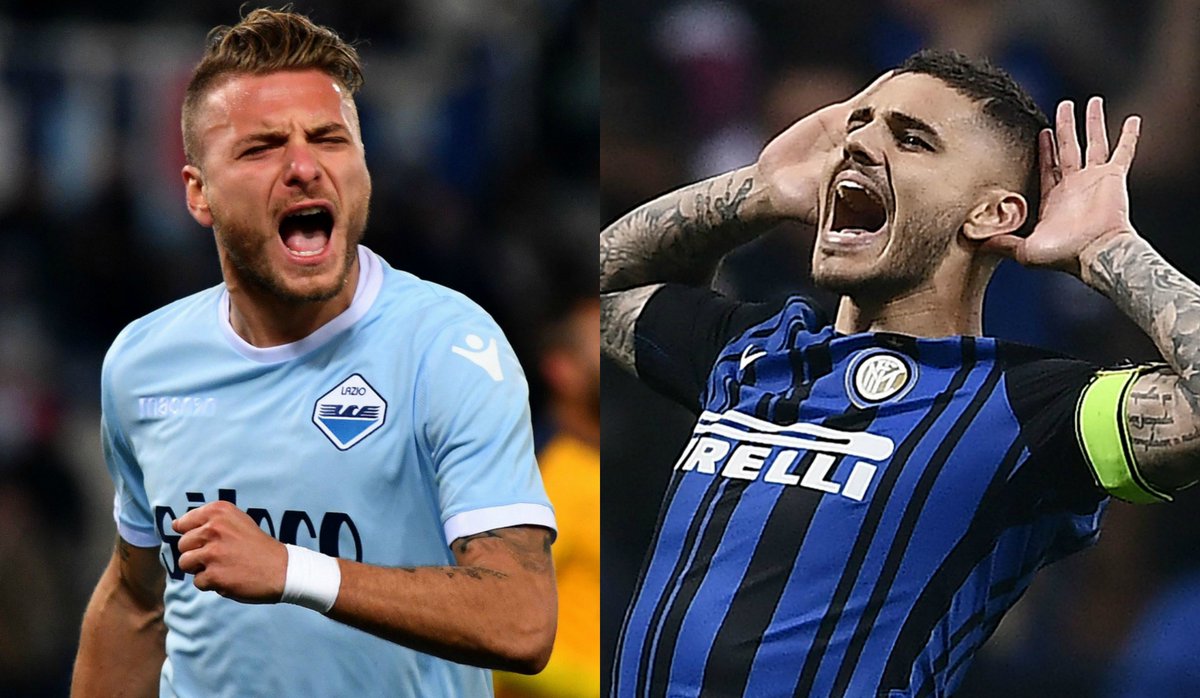 After the players take the pitch this highly anticipated match gets underway. Minutes into the first half Inter look to start things off with a bang as Candreva takes a right footed shot from outside the box misses to the left. A minute later Lazio get their first chance with a shot set up by Lucas passing the ball to Adam who takes a right footed shot from outside the box is blocked. Circo Immobile sets up a shot after a corner a minute later to Luiz who takes a left footed shot from the center of the box is to high. Minutes later Lazio strikes first as a own goal from Perisic after seeing Marusic deflected in the back of the net that puts Lazio up 1-0. Inter cannot let this mistake get to them if they do it could spell disaster for Inter. So far Lazio are locking Inter up they need to figure out how to get out of this vice Lazio put them in. With an assist from Brozovic Vecino fifteen minutes in takes a right footed shot from outside the box is blocked. After the twenty minute mark Icardi takes a right footed shot from the right of the box misses to the left after an assist from Cancelo. Shortly after Savic hits the post after a right footed shot from outside the box. So far Lazio are keeping the pressure on Inter and keeping them from scoring chances and making sure they're taking chances of their own. Near the thirty minute mark D'Ambrosio takes a close range shot is saved in the center of the goal. With quick thinking D'Ambrosio on a rebound takes a right footed shot from a close range lands in the lower right corner bringing things on even terms as the score becomes 1-1 after scoring an acrobatic goal. With nine minutes left in this Lazio dominating half Immobile takes a right footed shot after a pass from Savic from a tough angle misses to the right. Minutes later Felipe takes a right footed shot after a through ball from Lulic from outside the box lands in the lower left corner this puts Lazio back up 2-1. A minute later with one last chance to even things up once more Perisic takes a right footed shot from the center of the box goes to high with that the half ends Lazio up 2-1. Early on Lazio lead the possession but Inter would get a hold of it has they dominated the rest of the possession in the half. However Lazio own the chances game and they're doing a great job making sure Inter can't breathe. If Inter can start creating chances and holding Lazio to a standstill they still have a chance to win this match.
Inter Find some life as D'Ambrosio Equalizes Before Inter go behind again
After the break this match resumes. Inter really need to step it up if they have any hopes of getting back into this match. No real action would take place early in this half the action would finally get started after the fifty minute mark when Luiz takes a right footed shot from outside the box after a corner from Felipe goes just over the crossbar. A minute later Lulic takes a right footed shot of his own from the center of the box is blocked. Lazio a few minutes later would continue taking chances as Stefan takes a right footed shot after a cross from Felipe from the center of the box is saved in the center of the goal. Near the sixty minute point Perisic takes a header from the right of the six yard box is saved in the lower right corner. A minute later Perisic takes another header from the center of the box after a cross from Cancelo misses to the left. After the sixty minute mark Inter make their first subbing as Eder replaces Candreva. Shortly after being subbed on Eder takes a header from the center of the box is to high after a pass from Brozovic. Two minutes later Felipe takes a right footed shot from the right of the box after a pass from Lucas after a fast break misses to the right. Inter have stepped up this half in creating chances and getting majority possession of the ball but time is slipping as the final CL spot is falling from their grasp. Near the seventy minute point the Inter youngster Karamoh replaces Rafinha. With less than fifteen minutes left Brozovic takes a right footed shot from outside the box is high to the right. In the seventy seventh minute Inter get a penalty after De Vrij fouls Icardi the striker played it perfectly as the defender fell into his trap as Icardi was tripped in the box. In Icardi fashion he scores the penalty and evens things up yet again now making it 2-2. With ten minutes left Karmaoh takes a left footed shot from the left of the box misses to the right. Shortly after Inter makes their last subbing of the season as Rannochia replaces D'Ambrosio. In the same minute Vecino after a cross from Brozovic takes a header from the right of the box lands in the top right corner. This gives Inter their first lead of the match if they can hold on the CL is theirs after being down twice Inter found themselves on the verge of the impossible. Savic tries to even things up with a right footed shot is close but misses to the left. But with that Inter were able to hold on as they win 3-2 and with that against all the odd Inter join Juve,Napoli and Roma in the champions league winning in dramatic fashion here in Rome.
Devastation from Lazio and Exhilaration from Inter In the Do or Die clash in Rome 
This was a sloppy win but in the end they made it into the Champions League and fans everywhere are celebrating. Inter will struggle in the Champions League but congratulations on  making it Icardi shows he love for Inter nearly crying after the match. In this match despite Inter owning possession shot wise and defending wise Lazio were defiantly the stronger side. Inter yet again struggle with being offside which is one thing over the summer they need to work on as it'll be critical to get as many chances as they can to even remotely have any chances at a push in the CL. They will also need to work on defending against stronger teams and finishing scoring chances. But on the positive side this is better than last year when they finished out of the top five and not letting mistakes get to them as much. Also they did a great job taking more chances despite struggling to finish some of them. Man of the match is Brozovic he took chances when the chance arrived and defended the ball the best he could overall he was one of the few consistent players this season. I'd like to however give a honorable mention to Vecino whos game winning goal sealed the Champions League spot for Inter. This season is rated at a 8-8.5 they did a great job but they still have a lot of work to do. This has been a crazy season but next season will be a busy season as they have to manage CL and Serie A but anything can happen only time will tell. Until the next one or season as always FORZA INTER.
Man Of The Match: Marcelo Brozović (4)
By the numbers
Inter Milan
Possession 60%
Shots 15
Fouls 13
Assist 1
Pass success 85%
Lazio
Possession 40%
Shots 14
Fouls 12
Assist 1
Pass success 76%
Top Of the Table
1. Juventus 30-5-3 95Points CHAMPIONS/Champions League)
2.S.S Napoli 28-7-3 91 Points (Champions League)
3. A.S Roma 23-8-7 77 Points (Champions League)
4. Inter Milan 20-12-6 72Points (Champions League)
5. Lazio 21-9-8 72Points (Europa League)
Bottom Of the Table
16. Cagliari 11-6-21 39Points
17. SPAL 8-14-16 38Points
18. FC Crotone 9-9-20 36 Points (Relegated)
19. Verona 7-4-25 25Points (Relegated)
20. Benevento 5-3-27 18Points (Relegated)