After the second of four international breaks Serie A action resumes. This week Inter take on their derby rivals Milan in another epic installment of the Derby Della Mandonnina. This historic rivalry dates back to 1909 a year after Inter broke off from Milan after one of their friends who was Swiss couldn't play because he wasn't Italian born. For those who don't know the term Internazionale means brothers of the world. Because Inter have always made it their mission to be accepting of players that were outside of Italy. Milan have a total of 112 wins over Inter. But in their past six matches they each have a win a piece but four of those matches were a draw. But their last match it ended in a 0-0 draw. Both sides have been struggling this season but Inter have been fighting to work their way back up in the table where they currently sit in third after working their way up from fifteenth place. Milan still have one game in hand after their first match was postponed due to the bridge collapse in Genoa. They currently sit tenth and look to work their way in the standings.
Inter Milan
Inter player wise are slowly getting better. Politano who struggled in the beginning of the season is slowly showing improvement in creating chances and helping his teammates. Also Icardi is slowly getting back in the swing of things currently on fire with four goals in his last two games. Devrji and Asomah are making themselves at home on defense helping block opposing teams shots. Also they do at times helping create chances of their own and finding teammates when needed. It is to early to tell about Vrsaljiko as he hasn't had much time on the team as he'd been out a few matches due to injury and it is undetermined how they'll best utilize him going forward. A player who as really stepped up  this seasdon has been Radja Nainggolan. He has been making news for all the wrong reasons ahead of this must important derby. He has been in hot water for recent comments against his former club Roma. Despite that Radja has added depth to the midfield which as been a area where the squad as been lacking over the last few years. The key player in this match up will be Ivan Perisic who create chances and doing what is needed to help the team. He will also step up as a secondary leader if needed and lead the charge in critical times such as if the team is down points he is really good at rallying the team and getting things back in line to get potential points.
AC Milan
Milan is a team that has had a poor start to the season but despite that fact they have been picking up some stream. However in this match currently from means nothing in this fixture AC Milan owns this city. The city is theirs the are the most successfull club in this region and Milan want to prove that its still their city that Milan is RED not BLUE that will be easier said then done. Milan will be without Strinic who is out to a heart condition and it is unsure when he will return. Higuain as made himself at home after being transferred there from Juventus he is a winner and infront of goal he is exellent he as been a great addition to their attack. Cutrone as always does a great job creating chances and helping with assist. As usual Kessie, Laxalt, Suso are a critical part of Milan's midfeild. Defensive wise they solid though despite the team as been struggling as of late but starting to show their abailty over the last few games. The key player in this match is going to be Higuain as he is a huge threat in the attack and will cause the Inter problems if they don't isolate them.
Bottom line
The bottom line is this match can easily be a turning point for one of these teams. If Inter can do a their job and shut down Milan's offense they can move up to second place if Napoli draw or lose their match. On Inter's offensive side they need to continue creating chances and finishing them. They also need to continue geling as a team and working as a cohesive unit and doing what it takes to get the job done. While a Milan a win would mean a jump to fifth place which for them would put them in possible Champions League contention. Milan will need to keep Perisic isolated because if they give him room to work he can move the ball with precision that if he passes the ball to Icardi we all know the work Icardi can do even though he has few touches on the ball he is a very clinical striker and is good at finishing scoring chances. However the duo of Suso and Higuain is as dangerous as it gets both teams have struggled with their finishing.   This match is impossible to call it can go either way depending on who wants it more in this match records dont matter its about the Derby.
Inter projected lineup 4-2-3-1
GK Handanovic
Def Asomah, Skriniar, Devrij, D'Ambrosio
Def Mid Brozovic and Vecino
Att Mid Perisic, Radja, Politano
Forward Icardi
AC Milan projected lineup 4-3-3
Gk Reina
Def Conti, Rodriguez, Simic, Zapata
Def mid Bonaventura, Laxalt, Suso
Att mid Cutrone, Biglia, Higuain
Milan's Gonzolo higuain and Inter's Ivan Persic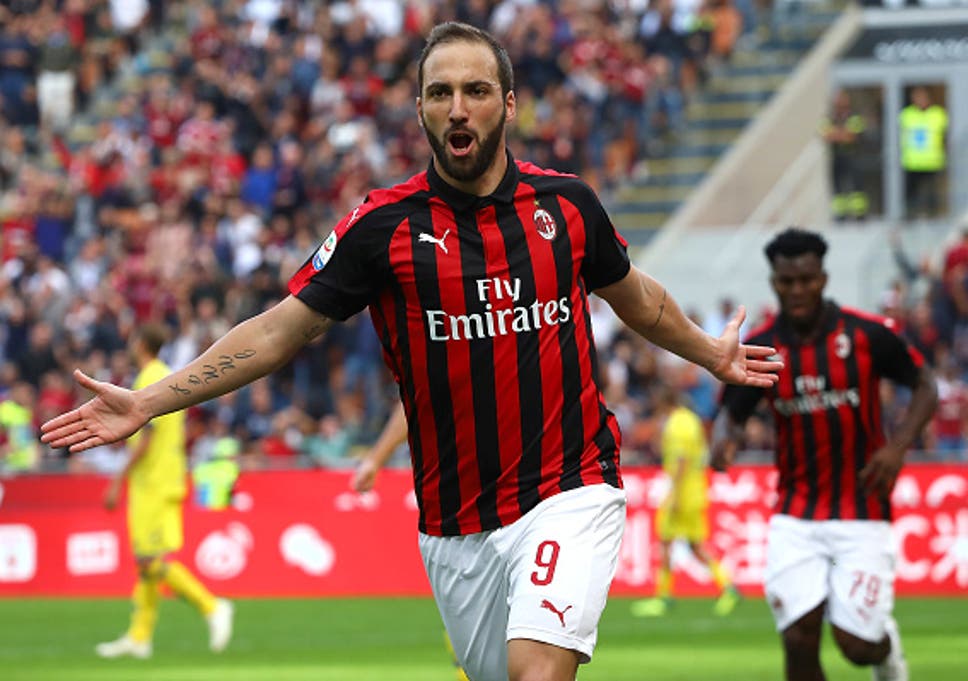 Place Giuseppe Meazza
Location Milan Italy
Date October 21st
Time 1:30pm 7:30pm uk 8:30pm Italy